Covid-19

How will this affect dive boat charters?
Due to government guidelines we can now only operate with reduced numbers. This is obviously putting strain on the whole charter boat community. Unfortunately this means that until further notice the way in which we operate needs to change. If you are the group organiser please inform the rest of your group.
Please take the time to read through the information below to see how this affects each of our divers when diving with us.
These measures will only be relevant during the current covid-19 pandemic and are subject to change following goverment guideline updates. This page will be updated as and when new guidance is published.

This Guide covers all of the following:
- PPE - What to bring with you.
- Declaration form - Must be completed prior diving.
- Air fills - What you need to bring.
- Payments - When and how to pay.
- Prices - Temporary increases.
- Cancellations - Our temporary cancellation policy.
- Important notes - Etiquette on our boat(s), including do's and don'ts.
- Meeting place - Where to meet before the dive.

We will now be asking each of our customers to bring a dry bag with them (1 per diver/household). Within that dry bag we ask you bring the following items:
- A face mask. 1 per person. We will carry spare masks on-board in case you damage yours, but if you turn up without one you will be charged for the priviledge.

- A bottle of hand sanitiser. 1 per person, or per household.

- A bottle of water. 1 per person, or 1 large one between household, either for drinking and/or rinsing masks. Refreshments will not be currently offered on-board.

- A small hand towel. *optional. To dry your face after a dive (we recommend to dry your face before you apply a face mask or covering).

- Anti-fogging liquid. *optional. No mask buckets will be available until further notice. You have the option of rinsing your mask in the sea or with a bottle of water, but please do not spit in your mask whilst on the boat.
In order to minimise contact whilst on board we require each diver to print and complete a declaration form prior to diving with us. Please bring the form with you to the boat. If you need help completing the form or do not have access to a printer please contact us.

The declaration form can be found here.

You will need to be able to view .pdf files. Most web browers support this, or you can download Adobe Acrobat reader for free here. If you have any problems please contact us.
We are currently unsure if the dive shop will be open on Swanage pier during the week. Air fills are available on weekends as normal.
Please bring sufficent filled dive cylinders with you.
As soon as we find out anymore information we will update this statement.

Payments must be made at the time of booking.

Failure to make payments may result in your booking being removed. Best method is by bank transfer, but cheques will also be accepted. Our address can be found here. Please don't forget to write details on the back of the cheque, or the the reference section of the bank transfer. References will always be the dive date (example, 03092020 or 3sept20). If you are booking for multiple days the first date booked should be used. Please send a confirmation to info@kyarra.com that you have made/sent payments.

Santander Commercial Bank
Swanage Boat Charters Ltd
Sort code 09 01 56
Account number 28817487
Reference: Your dive date(s)

Please refrain from using cash until further notice unless absolutley necessary. Last minute bookings should also be paid for by bank transfer where possible.​​​​
It is not financially viable to run at our current prices. In these circumstances our prices will temporarly increase to £35 per dive for all our local sites. As soon as things return to normal we will revert back to our regular prices. All distant wrecks will require a minimum of 6 divers (maximum currently allowed to carry).

An updated version or our prices page can be seen here.
If you should need to cancel, for any reason, please let us know asap to give us a chance to re-fill your space(s). If we, or yourself are unable to re-fill your space(s) no payment will be refunded.
Should we need to cancel for any reason, including adverse weather conditions, your payment will be returned in full.
- The wheelhouse is strictly out of bounds for customers.

- All personal possesions should be kept in your dry bag (including PPE, phones, keys and sunglasses) and stored close to your own kit.

- Face masks/coverings should be worn when it is not possible to maintain a 2 metre distance between other customers (including helping others with doing up drysuits).

- Buddy checks should be performed whilst maintaining a 2 metre distance, unless from the same household. Emergency regulator checks must be performed using the purge button and not placed in the divers mouth.

- No spitting in masks whilst on board the boat. Where possible please use anti-fogging liquid and rinse with a bottle of water.

- Before entering the water you will be asked in your groups or buddy pairs to move towards the dive lift (exit point). Please keep your regulator in your mouth at all times.

- When being recovered from the water please keep your regulator in your mouth at all times until you are sat down in your designated seat. Please be aware that if that means passing within 2 metres of another diver from another household to you, they must keep their regulators in, or be wearing a face mask/covering.

- The toilet is available if absolutley necessary, but please use the toilet before boarding if possible. After each use please inform the skipper as he will have to disinfect the toilet, handles and hand rails.

- Customers be will asked to stay in their seat where possible. When it is not possible to maintain a 2 metre distance between other customers a face mask/covering must be worn.

The muster point on the lower landing stage of Swanage pier. Please maintain a 2 metre distance (unless from the same household), or as stated under the government guidelines. Please remain on the lower landing stage and do not venture down on to our pontoon until asked.

A full briefing will be given to you on what you need to do prior to boarding. Please be ready on the lower landing stage 30 minutes before the boat leaving time with your kit assembled, bare essentials (mask, gloves, fins etc) in a mesh bag or similar (no boxes) and in your drysuit (or wetsuit). Space will be limited so please don't bring all your spares with you. Take the time to check your kit beforehand.
After the brief you will be asked to use your hand sanitiser and make your way one at a time and board the boat. The skipper will designate a seat for you.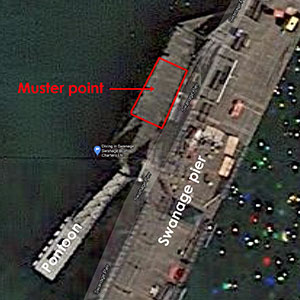 Will we still run with 2 divers?
Yes we will. Only the maximum number of divers has changed.

Risk assessment
A full risk assessment has been produced. A copy of this is available upon request. Please contact us for more information.