Covid-19

Please take the time to read through the information below to see how this affects each of our divers when diving with us.
How will this affect dive boat charters?
The below measures will only be relevant during the current covid-19 pandemic and are subject to change following goverment guideline updates. This page will be updated as and when new guidance is published.

**Changes as of the 19th July 2021**
As of the 19th July the number of people allowed to meet outdoors has increased. Guidance on meeting friends and family now emphasises on personal responsibility rather than government rules. A declaration form will no longer be required.

After much consideration we have decided to make the following changes;
Shuttle boat/dive spaces
Will increase to a maximum of 12 spaces. The price will return to our regular prices. Prices can be seen here.
Full boat charters (2 dives)
Will increase to a maximum of 12 spaces. This is at the organisers discretion and is their personal responsibility to ensure that the divers on board are happy to sit in close proximity. The price will return to our regular full boat charter price. Prices can be seen here.

This Guide covers all of the following:
- PPE - What to bring with you.
- Air fills - What you need to bring.
- Payments - When and how to pay.
- Prices - Returned to regular pricing.
- Important notes - Etiquette on our boat(s), including do's and don'ts.
- Meeting place - Where to meet before the dive.

We will now be asking each of our customers to bring a dry bag with them (1 per diver/household). Within that dry bag we ask you bring the following items:
- A face mask. *optional. 1 per person. As of the 19th July 2021 a face mask will no longer be mandatory, but is still advised that you wear one if you are an induvidual, buddy pair or small group as there may be others from outside your group on board. Masks must be worn when entering the wheelhouse.

- Anti-fogging liquid. *optional. No mask buckets will be available until further notice. You have the option of rinsing your mask in the sea or with a bottle of water, please do not spit in your mask whilst on the boat.
The dive shop is usually open on Swanage pier during the week, but it is worth checking beforehand with the shop if you require fills. We suggest you bring sufficent filled dive cylinders with you. Air fills are available on weekends as normal.
Payments must be made at the time of booking or on the day.

BACS, cash and cheques will be accepted. If you are posting a cheque our address can be found here. Please don't forget to write details on the back. If you are paying by bank transfer the reference will always be the dive date (example, 03092020 or 3sept20). If you are booking for multiple days the first date booked should be used. Please send a confirmation to info@kyarra.com if you have made/sent payments.

Deposits for full boat charters are £150 per day booked (2 dives). Full payment is required a minimum of 4 weeks before the dive date.

Santander Commercial Bank
Swanage Boat Charters Ltd
Sort code 09 01 56
Account number 28817487
Reference: Your dive date(s)
We have now returned to our regular prices. The prices page can be seen here.
- When entering the wheelhouse you must wear a mask.

- No spitting in masks whilst on board the boat. Where possible please use anti-fogging liquid and rinse with a bottle of water.

- The toilet is available if absolutley necessary, but please use the toilet before boarding if possible. After each use please inform the skipper as he will have to disinfect the toilet, handles and hand rails.

The muster point on the lower landing stage of Swanage pier. Please remain on the lower landing stage and do not venture down on to our pontoon until asked.

Please be ready on the lower landing stage 15 minutes before the boat leaving time with your kit assembled, mask, gloves, fins etc in a mesh bag or similar and in your drysuit (or wetsuit). Take the time to check your kit beforehand.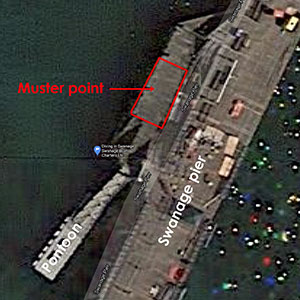 Will we still run with 2 divers?
Yes we will. Only the maximum number of divers has changed.

Risk assessment
A full risk assessment has been produced. A copy of this is available upon request. Please contact us for more information.